What is the PPR Pipe?
The raw material of PPR is separated into 3 groups according to heat, pressure and durability for chemicals. These are Type-1(polypropylene homopolymer), Type-2(polypropylene block copolymer) and Type-3 (Polypropylene Random copolymer). Type-3 is more performers against physical and chemical than Type-1 and Type-2.
What is PPR pipe?
PPR pipe is a straight, rigid, cylindrical tube made from polypropylene random copolymer plastic, produced by a continuous extrusion process. They are typically offered in green or white and range in outside diameter sizes from 20 mm to 110 mm, making the pipe walls much thicker than PVC. PPR pipe comes with a range of connection fittings, parts and accessories for each pipe diameter.
Main features of PPR pipes
1- 50 years of service life at 20 °C and 25 ATM pressure.
2- Suitable for which. 20 ° C and +95 ° C (the freezing point of the fluid in the insulation must be taken into account)
3- For these reasons, it is very durable.
4- High resistance to chemicals.
5- Shiny and smooth inner surface
6- The color, smell and taste of the water does not change
7- Provides heat and sound insulation.
8- No diameter distortion on the fittings. This provides maximum performance.
9- Installation and mounting savings of up to 70%
10- Environmentally friendly
What are the main uses of PPR pipes?
As you have seen before, PPR pipes offer several economic, ecological and durability advantages. That's why these pipes are used in a variety of applications. Read on to discover the following main uses of PPR pipes.
PPR pipe is commonly used in the construction of hot and cold water systems. the ability of PPR pipe to withstand hot and cold temperatures without cracking or splitting makes it the best choice for hot and cold water systems. In addition, its low thermal conductivity means that the fluid will maintain the desired temperature.
PPR fittings are the first choice for discharging chemical fluids, including industrial waste. Because PPR pipe can withstand strong chemicals and alkaline solutions, it is ideal for industrial fittings.
PPR pipe is also used as a purified water supply system. These pipes are durable and can last for more than 50 years. More importantly, they do not break or rupture easily, even under severe conditions.
PPR pipes are ideal for building heating systems. These pipes can be installed in-floor, radiant, and wall heating systems. These pipes can withstand all surfaces and conditions, making them perfect for all your heating needs.
Development
With the increasing market demand in the fields of construction, municipal engineering, water conservancy, agriculture and industry, China's PPR pipe industry has shown rapid development. 2009 plastic pipe production of 5.804 million tons, an increase of 18.9% year-on-year. 2010 January-September, plastic pipe production of 5.528 million tons, an increase of 28.23% year-on-year. At the same time, with the increasing consumer demand for environmental protection, health, durability and other product quality requirements, in China's plastic pipe production increased at the same time, the level of product quality continues to improve, technological advances in the industry to accelerate the development of the brand scale enterprises continue to increase. Material types and new structures continue to emerge, advanced system design concepts are emerging, the product function is more obvious, and the application areas are further broadened. Analysis shows that the market share of plastic pipes in China has exceeded 30% of all pipes.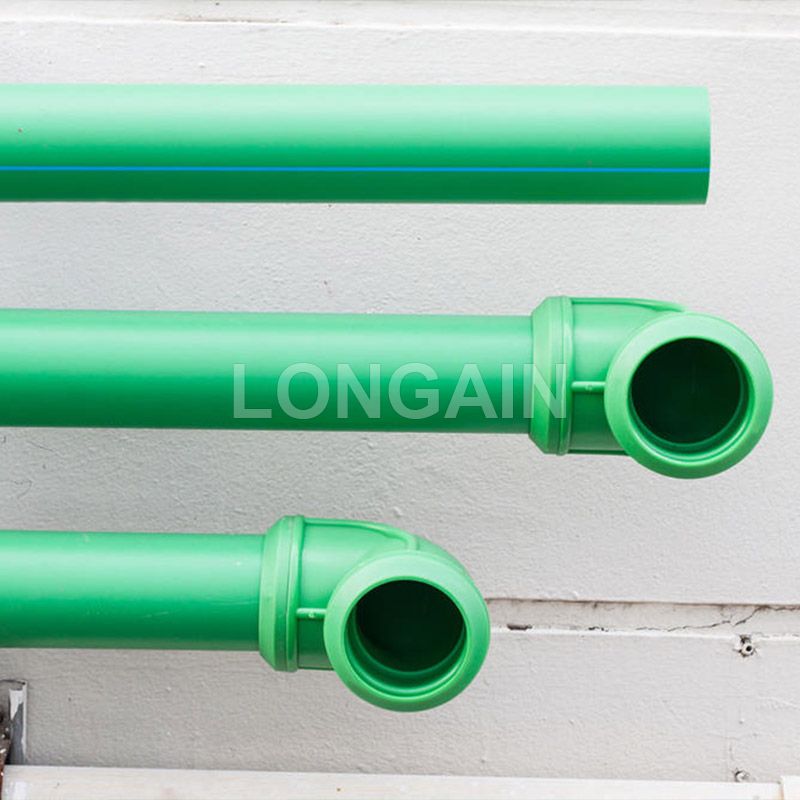 By 2015, 85% of building drains will use plastic pipes, 80% of building rainwater drains and 50% of urban drains will be used for urban drains. By 2015, 85% of the heating pipes will be made of plastic pipes, 80% of the urban water supply pipes (below DN400mm) will be made of plastic pipes, 90% of the rural water supply pipes will be made of plastic pipes, 40% of the urban gas plastic pipes (low and medium pressure pipes) will be used for building electric wires, and 90% of the threading and sheathing pipes will be made of plastic pipes. According to forecasts, during the "12th Five-Year Plan" period, China's plastic pipe production will maintain a growth rate of about 10%. By 2015, the national output of plastic pipes is expected to be close to 12 million tons.
Nowadays, ppr pipes are becoming more and more popular in society, involving water supply, sewage, irrigation, gas transmission and other uses. Due to its own advantages and characteristics, it is able to stand out and occupy a very important position in the pipeline market.
If you are interested in sending in a Guest Blogger Submission,welcome to write for us!