What is Carplay Android Box?
Author: Geym
May. 25, 2022
110 0 0
ANDROID 9.0 FOR FACTORY
Android Box CarPlay is a cool and interesting device that can make your vehicle more attractive. This is a convenient module that allows you to enjoy multiple functions directly on the car display.
CarPlay Box Android overcomes all these shortcomings and provides flexibility at your fingertips. You can use a single module to watch YouTube, stream Netflix, activate navigation, or play various games.
What is Carplay Android Box?
Carplay Android Box is a multimedia device directly connected to your car. It is an excellent alternative to Apple CarPlay because it has more features and seems to be more flexible. It's also called a Carplay radio, and it uses the Carplay Android box because it achieves higher resolution and better audio transmission than Android Auto. You can easily and conveniently make calls on your Android smartphone using the Bluetooth system. The phone voice assistant is your co-pilot assistant, allowing you to focus on the road and scenery ahead.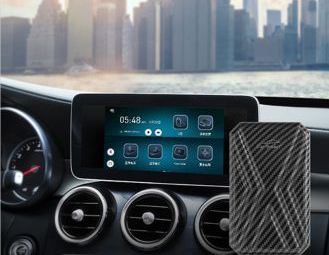 CarPlay is essentially an AI box that opens up countless possibilities. You can watch videos or movies, listen to music, play games, search for content in Google Chrome, open maps, and use the Android operating system to do everything you want.
The device itself is quite compact and attractive. It consists of first-class components, which is why you can feel the quality as soon as you hold it in your hand.
If your vehicle is equipped with a touch screen, you can control CarPlay without additional accessories. But if the touch screen is not included, you will be able to browse this module via the remote control.
In addition to the optional remote control, CarPlay is also equipped with a GPS kit. If you want to use the navigation application on CarPlay, it is an essential accessory. However, this kit is not necessary for the normal operation of other applications.
The USB data cable included in the box is convenient because it allows you to charge your phone using CarPlay.
Android car radio boxes are very popular right now because the price has become very affordable.
If you are interested in sending in a Guest Blogger Submission,welcome to write for us!