What is a gazebo?
Author: Hou
Sep. 21, 2022
42 0 0
A gazebo is a small building with open sides. It is a freestanding open garden structure, sometimes hexagonal or octagonal, with a roof over an outdoor area such as a private garden or park. A gazebo is usually built in a garden so that people can sit and enjoy the view.
A variety of materials can be used to construct a garden gazebo. Most gazebos are made of wood, metal or stone and feature built-in seating in sheltered areas. To add a sense of closure and privacy, plaids or outdoor curtains or drapes are sometimes used. In a garden setting, a gazebo can serve as a focal point - something to watch and appreciate - or be located somewhere on the property (such as a hill) that provides views while providing shade from the sun. Garden gazebos are traditionally placed in locations that dominate the landscape.
Gazebos are similar to pavilions, pergolas, summer houses, and bandstands in terms of very basic functionality. Gazebo-like structures have been built for centuries. The Egyptians built garden arbors to support grapes for wine and raisins and to provide shelter like a gazebo. At this time, such structures were primarily functional rather than decorative.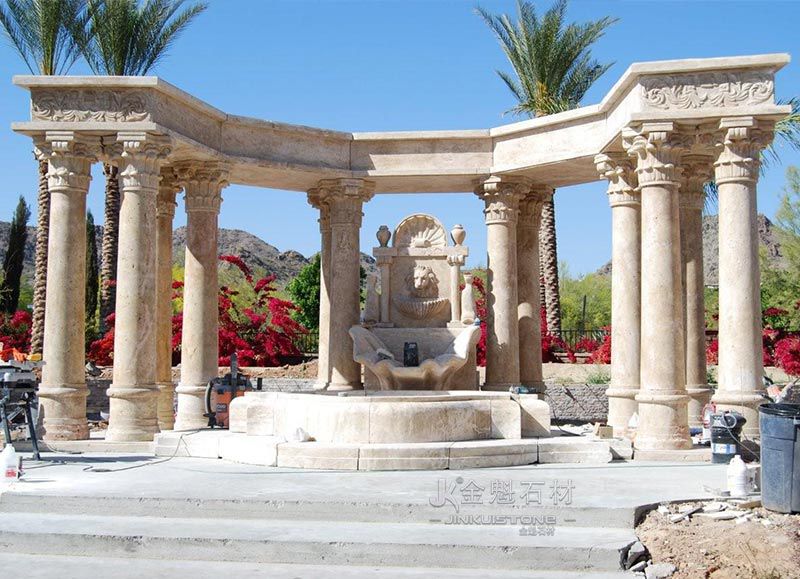 Gazebo Design Considerations
Adding a gazebo to your outdoor space should be carefully considered as it often looks contrived, awkward or out of place. When planning any garden structure, try to incorporate architectural elements or features of the house for harmony and continuity. Also pay attention to design considerations such as:
Scale and Proportion: Is the size and shape of the proposed gazebo suitable for your yard so that it is neither too large nor too suitable for the location?
Style: Does it blend in with other structures on your house and property?
Materials: Are materials such as stone, wood and iron used elsewhere on the exterior of your house?
Location: A gazebo can be a destination, an escape, or a place to frame a beautiful view.
Other hardscape features, such as paths or walls: Do the materials and shapes echo those used in the rest of the yard or the exterior of the home.
Many of us like to spend as much time outdoors as possible, and we should be spending more time outdoors. Improve your physical and mental health in just 20 minutes in nature. Time spent outdoors can lower blood pressure, reduce stress, slow your heart rate, and improve your mood. Whether you're spending time in your yard, community park, or exotic beach, you'll get a positive impact from the outdoors.
You can want to create a private place in your garden or backyard to establish a cozy hideaway on a smaller lot, add a pergola or overhead roof to your gazebo, paving, and a path leading to the area. For added privacy, create walls with lattice panels on the sides, and plant vines to grow up and over the framework. It will be a sincere environment on your own property.
If your garden or patio needs a renovation and you want them to have an exotic and unique look by an architect, I would like to design and make a marble gazebo for you. Contact me!
If you are interested in sending in a Guest Blogger Submission,welcome to write for us!