The 5 Reasons Why You Should Pick A Steel Truss
Author: Hou
Sep. 23, 2022
22 0 0
why pick a steel truss
The 5 Reasons Why You Should Pick A Steel Truss
Whether you're building a skyscraper or just doing a DIY project in your backyard, choosing the right material is critical to getting the job done right.
Here's why you should choose a steel truss for your next project.
1. Nothing lasts like a steel truss
Put simply, steel lasts a long time. A REALLY long time. In fact, every steel truss that we make is backed by a 50-year manufacturer guarantee.
First, steel doesn't weaken with time due to moisture like wood, improving its lifespan.
Second, because wood is an organic material, there is always the threat of termite or other organic damage.
Nothing eats steel.
2. Extremely strong without taking up much space
Steel is far stronger than other truss materials like wood, which means less of it supports the same weight.
This means that it doesn't take up much space. Walls can the thinner, frames can be smaller, and overall usable square footage goes up. Or, in the case of one client, steel trusses opened up plenty of space for windows.
For something like a storage unit, a steel truss barn, or a garage, this added space can go a long way towards making your life easier.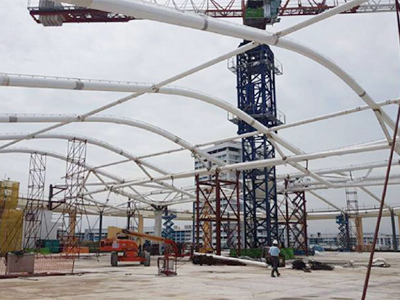 3. Adaptable
It might seem counterintuitive, but steel truss framing is actually extremely adaptable. It doesn't require special tools or training to install (more on installation in a minute) so can be flexible during the initial construction phase.
Second, because of how steel trusses are used in construction their modular-like construction means that additions later on are easy to do and can reuse or build on existing structures.
What this means is that added an additional barn to your existing one, extending a house out the back, or even just adding a second floor of space can all be completed faster and with fewer new materials than with traditional structural options like wood.
4. Fast and easy to install
This is where steel trusses really outshine the alternatives.
The simple fact is they're easier:
Can be flat packed
Often can be installed without a crane because of their lightweight construction
Can go in faster, without any special tools or training
Can be pre-assembled off-site
Construction can happen even in poor weather
The net result is that steel truss projects go up faster and smoother than traditional materials with less fuss and hassle. And when you're paying a whole crew, even a small time saving can seriously help your wallet.
5. Fireproof
If you're building in a city, there are often strict fire codes you're required to meet. Even if you're building in a relatively unregulated environment, fire is still a major threat. What's more, building out of flammable materials like wood is likely to increase your fire insurance premiums. A steel truss construction:
Makes it easy to meet municipal building codes
Reduces the real risk of fire regardless of location
Will likely reduce your ongoing maintenance costs via insurance premiums
All this on top of the fact that if there IS a fire, a steel truss building will fare a whole lot better!
Conclusion
All in all, steel truss as a building material is the best product for modern construction. IT's fast, durable and easy to install, helping keep construction costs down. It's adaptable, it can be installed in any weather, it's a modular construction system, and it's fireproof.
If you are interested in sending in a Guest Blogger Submission,welcome to write for us!