How much do you know about EPDM Rubber Foam?
Author: CC
Oct. 09, 2022
46 0 0
Tercomflex rubber foam insulation as a soft insulation material adopted the EPDM rubber which is known as "no cracks rubber" as raw material made of foaming. With stable performance,anti-cracking, resistance to high and low temperature, high elasticity, and so on, Excellent corrosion resistance makes the product not easy to age, this product is convenient and simple to install and using long life, Operating temperature range is from -55℃ to 125℃, intermittent use up to 175℃. Specially used in medium insulation of the lower and higher temperatures. Such as automotive air-conditioning insulation, Similarly, the product is also suitable for all parts of general rubber (NBR / PVC) insulation. and the greater extent to improve the anti-aging and insulating properties of insulation parts. In order to meet the requirements of the European Union and other countries that products without halogen and requirements of certain industries prohibit the use of halogen-containing products, this product can be customized with halogen-free corrosive elements.Halogen-free products can be guaranteed stainless steel, and brass pipe insulation is not easily corroded.
Type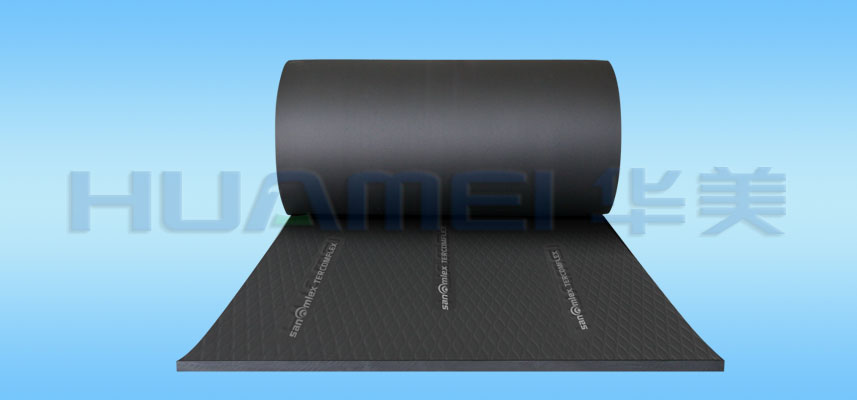 EPDM is a synthetic rubber with very inert chemical properties that offers excellent weathering resistance and good all-round performance, except with fuels and oils.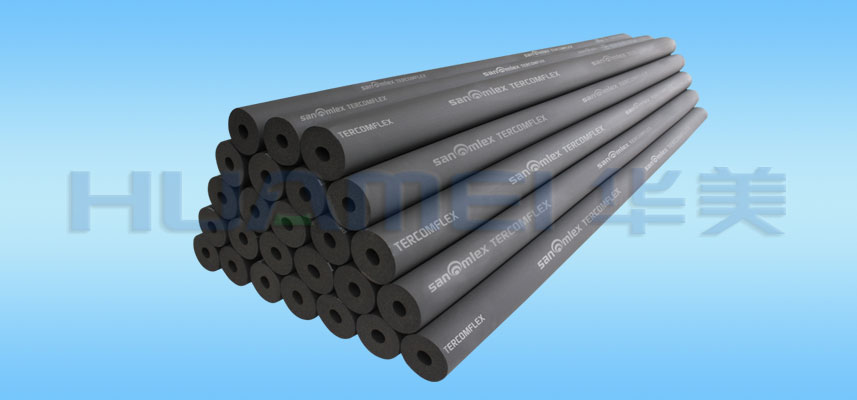 EPDM rubber foam pipe
EPDM rubber-based elastomeric pipe insulation is flexible, lightweight, UV resistant, and requires no outdoor weather protection.
EPDM material
EPDM is the acronym for ethylene propylene diene monomer rubber. This synthetic rubber is sometimes blended with other materials and is often used in areas requiring higher performance physical properties with respect to heat, ozone, and weather resistance.
Application
EPDM rubber foam, whether in closed-cell or semi-closed cell form, has found wider use in working in outdoor conditions, and it has excellent resistance to common hazards such as UV rays and ozone. Therefore, this closed cell EPDM rubber foam is ideal for any application that requires outdoor use.
Our EPDM rubber foam can be used in windshield seals, appliances, HVAC, electrical and construction industries combining moisture resistance and acoustic benefits.
Features
High compressive strength: EPDM closed cell rubber foam differs slightly from open cell rubber in terms of compressive strength. While open-cell sponge rubber can bounce back to its original shape quickly, closed-cell foam rubber sponges take longer to do so. This allows the closed-cell EPDM sponge rubber to handle high-pressure applications at better speeds, making it more durable.
GREAT FOR OUTDOORS: The outstanding ability of this EPDM closed cell rubber foam to work outdoors is entirely due to the EPDM rubber compound in its structural composition. It has excellent UV and ozone resistance. Outdoor factors such as UV rays and ozone may not damage the material immediately, but they will certainly degrade it over time. The EPDM compound in this sponge rubber allows it to be exposed to the elements for extended periods of time. This is the main reason why EPDM material is a popular elastomer used in applications such as window sealing in vehicles and homes.
Good moisture resistance: One of the main advantages of EPDM closed cell rubber foam is that it resists moisture easily. It does not easily absorb liquids or general moisture. This is thanks to the structural properties of the closed-cell material itself. It prevents immediate penetration of water and other liquids. Instead, it keeps moisture on its surface longer. They can even wipe the water droplets off the surface of this material if they want! This feature makes this type of EPDM closed foam rubber sponge ideal for use as a sealing or cushioning option.
Ultra-Weather-Resistant: Made of EPDM, this foam has the best resistance to water, sunlight, and oxidation of all the foam we offer.
custom EPDM rubber foams
These ultra-soft, comfortable EPDM rubber foams are available in custom profile shapes as well as in sheet/coil form. Acrylic, rubber, butyl tape and other pressure sensitive adhesives (PSAs) can be applied to some of these products to meet customer requirements for high adhesion performance.
Our EPDM rubber foams include semi-closed cell supersoft and supersoft foams; closed cell foams and custom foam blends. We can also produce material in a variety of formats such as full rolls, sheets, strip cut lengths and custom gaskets.
For more information on selling EPDM rubber foam, click here to contact us.
If you are interested in sending in a Guest Blogger Submission,welcome to write for us!