How much do you know about CO2 laser articulated arm?
Author: CC
Jul. 01, 2022
86 0 0
Laser articulated arm is a flexible optomechanical solution for connecting laser sources to the process whether for industrial, medical or military applications. Laser articulated arm provides an enclosed beam path with a controllable atmosphere for safety and cleanliness. The constant beam path distance provides a fixed beam size at the output. The arm can be configured into many configurations of length, joints and aperture to fit most applications.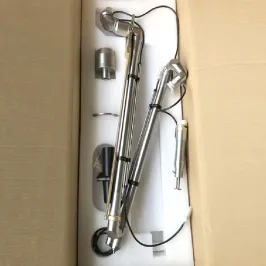 Features of laser articulated arm
Smooth movements
Large working area
No loss of intensity or degradation of mode quality
Counterbalance by either spring or weight mechanisms
Sealed articulated arms for outdoor and dusty applications as an option

Types and applications
Medical lasers
Dental laser
Fine articulated conservation lasers
Industrial lasers
LIB spectroscopy etc
Laser articulated arms offer advantages over other moving optic industrial laser systems. For example, it is important to control contaminants in the beam path, because only a few parts per million can cause dramatic blooming of the laser beam. The sealed volume within the arm makes it easy to provide a clean gas purge to eliminate this problem.
If you are interested in sending in a Guest Blogger Submission,welcome to write for us!