Advantages of FRP Storage Tanks
FRP tanks are glass fiber reinforced plastic tanks that can be used in a variety of applications. The FRP coating process is completed on its outer surface, a high-performance epoxy resin with a polyethylene (PE) or ABS seamless one-piece liner. These FRPs act as two layers of protection and help improve corrosion resistance. These FRP tanks are available in a variety of sizes, from small to large, and FRP tanks typically operate in the temperature range of 1 - 49 oC (34 oF - 120 oF).
Benefits of FRP storage tanks
Through the years, a variety of materials have been used extensively over the years to construct tanks for industrial use. There are many integrated systems consisting of unreinforced concrete or polyethylene and steel that do not necessarily offer the same benefits as fiberglass. FRP tanks are robust externally, corrosion-resistant, waterproof, lightweight, easy to customize, and easy to install.
FRP materials are widely used for different industrial applications, from underground storage to cesspools; FRP tanks offer significant advantages over other commercial materials. This separates FRP tanks from tanks made of other materials that are prone to leaks and minor problems. FRP tanks are known to provide leak-free storage with long service life.
There are many benefits to using fiberglass as the material of choice. Here are some of the main advantages.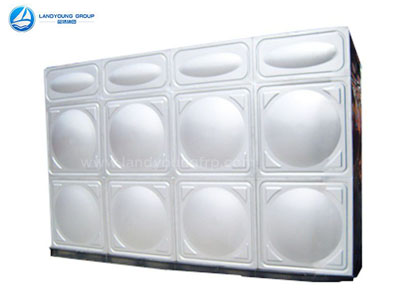 Stainless Steel Water Tank
1. 100% Watertight
Fiberglass (FRP) tanks are manufactured as completely sealed units. Infiltration through the walls is done at the factory with compatible materials. There are no joints in the tank that need to be sealed in the field. This makes the tank 100% watertight.
Watertightness has two distinct advantages. First, it prevents other liquids and gases from entering the tank. This prevents contamination or dilution of the stored product. Second, it prevents chemicals from leaking out of the tank and contaminating the surrounding area.
2. Resist chemical corrosion
Fiberglass (FRP) was considered highly resistant to chemical attacks early in its development. GRP tank solutions carefully select the most appropriate resin system for the desired application to ensure it meets the expectations of the asset owner.
3. Low Maintenance
Due to the smoothness of the inner surface of the glass resin of the fiberglass (FRP) unit, particles are difficult to adhere to the sides. The smooth interior of the fiberglass (FRP) station means that the time and frequency of cleaning the tank and the product build-up on the tank walls are greatly reduced. As a result, operator maintenance costs and equipment downtime are reduced.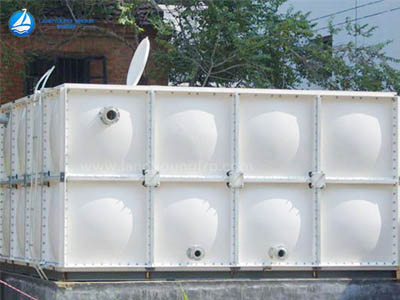 FRP Tanks
4. Quality Control
As part of GRP Tank Solutions' quality control system, its FRP products are designed and certified by licensed composite engineers for the proposed application.
Fiberglass (FRP) chemical tanks are manufactured as complete units under factory-controlled conditions.
Before beginning fabrication of any FRP component, specific working drawings are made for the project. During the drafting process, dimensions and clearances are checked to ensure that the tank will perform as designed. Since these units are customized for each project, these drawings include all necessary fabrication details.
For more information about the FRP Storage Tanks, welcome to request a quote, please contact sales@landyounggroup.com.
If you are interested in sending in a Guest Blogger Submission,welcome to write for us!