Advantages of Brass Ball Valve
Brass ball valves are some of the most common types that you will use in plumbing, wells, and HVAC. They are quite easy to work and install and are suitable for many applications, corrosion resistance is not a big issue. We will review several reasons why brass ball valves are so popular, where they are best used, and the difference between brass and bronze.
Why are brass ball valves so popular?
1. Easy to operate
One of the biggest benefits of brass ball valves is that they are easy to work and install. By simple handling, I mean that brass as a material is softer than others (such as stainless steel). This makes sealing easier.
Also due to the popularity of brass valves, products for sealing them are very easy to obtain. When sealing other types of metals, you often need a specific pipe tape or thread sealant. Not that these are impossible to find, but you are easier to find brass sealing products than others.
2. Lead and no leaded options
With the transition to no lead over the past few years, brass products have undergone earth-shaking changes. From a material point of view, the price of leaded brass and no-lead brass is very different, so it is a good choice to use leaded brass on non-potable water applications. This can save you a lot of money.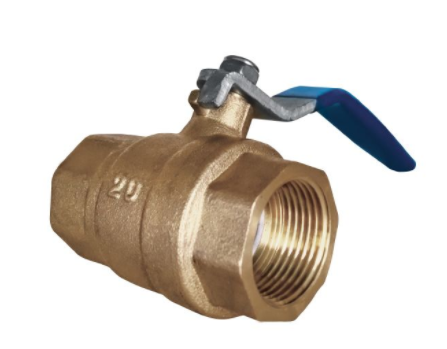 Brass ball valve - Yuanda valve
Where is the brass ball valve used?
The application range of brass ball valves is very wide. Most of the time, brass is a good choice. When it comes to potable water applications, lead-free brass is a good choice, unless the water is corrosive, such as high salt content. In this case, another material such as stainless steel or PVC will be better. Due to the cost of no-lead brass, other materials, such as stainless steel, which are also free of lead, have become more possible choices.
Brass ball valves are used in residential and commercial plumbing, water wells, HVAC, and many other applications. Basically, as long as the material passing through the valve is not highly corrosive, in general, brass is a good material to utilize.
>>Shop for brass ball valve here
What is the difference between brass and bronze?
Bronze and brass are easy to get confused. They look similar, have similar-sounding names, and are used for many similar applications. These materials, while sharing many positive qualities, are not identical. There is more than one difference between bronze and brass valves, but not everybody knows about them. While both materials are alloys that incorporate a generous amount of copper, they differ in price and properties.
What is Bronze?
Bronze is one of the original metal alloys. Using copper and tin, metal workers developed a material that was both strong and malleable, meaning it would not crack as easily as something like iron. Bronze has not changed very much, aside from the reduced amounts of lead and the occasional addition of manganese, aluminum, or nickel. Parts made of this material can only be manufactured by casting the material into a mold or by machining a pre-cast bronze ingot.
Bronze has a rough, porous exterior with small cavities in the surface. This is due to the casting process. However, bronze alloys with select additives can hold a polish and are not as abrasive. Bronze has many benefits, including high ductility (resists cracking), corrosion resistance, and low cost. There are tons of uses for bronze valves, including safety relief, flow direction control, shutting off flow, and more! Lead free bronze valves for potable water are available, but they must meet or exceed Clean Water Act lead restrictions.
What is Brass?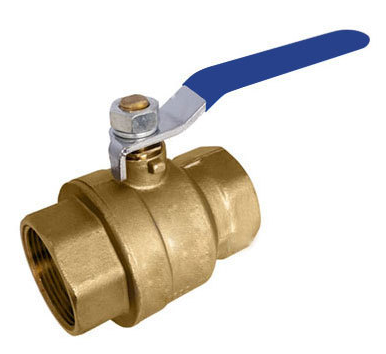 Brass ball valve
Brass is a newer material than bronze. It Is primarily copper and zinc, but is extremely versatile. There are a wide range of brass alloys with varying properties. Brass is also malleable and easy to work with. This makes it easy to cast, forge, heat extrude, or cold draw. Brass is very corrosion-resistant, much like bronze, but is susceptible to breaking down when exposed to high levels of chlorine.
The main benefit of brass valves over bronze is the much lower levels of lead present in the metal. This makes brass safe for drinking water in most cases. Another of the uses for brass valves is as shut-off valves in natural gas lines because of its low . Brass, in just about every case, is a much more effective solution than bronze, but it costs considerably more. The price disparity can be a problem for many people, but it is typically justified.
This may seem a bit esoteric, but one thing is very important and requires attention. The material composition of the ball valve is very critical. If you are buying a lower quality brass ball valve, it may contain less copper, which will make it more susceptible to corrosion in certain environments.
When it comes to closing, brass ball valves are incredible "daily" valves in many applications. Remember, if your system is corrosive or salty, you will want to look for other options such as bronze, stainless steel, or PVC. When the application requires no lead materials, you should also pay attention, because this will determine your choice.
We are Brass Ball Valve Suppliers. If you are interested in our products, please feel free to contact us.
If you are interested in sending in a Guest Blogger Submission,welcome to write for us!