The Boom Lift: Everything You Need To Know
What Is A Boom Lift?
A type of aerial lift, boom lifts allow for both horizontal and vertical reach. They are a helpful piece of equipment for outdoor jobs, industrial tasks and construction projects. Boom lifts allow for a higher reach than scissor lifts but typically have a smaller work platform.
What Does A Boom Lift Do?
Boom lifts make reaching difficult places and heights easier than ever. Providing a more secure workspace at high heights than with a standard ladder or man lift, it provides a safe way to get work done at any elevation.
The Boom Lift: The Basics
The basic components of a boom lift are a platform or bucket with a long arm that is attached to a grounded base. The arm is controlled by a hydraulic lift system that allows it to extend out and up to carry people or materials to new heights.
There are two main types of boom lift: articulating boom lifts and telescopic boom lifts. Articulating boom lifts have arms that bend while telescopic boom lifts have straight arms. Telescopic boom lifts have higher weight capacities while the bending ability of an articulating boom lift makes it easier to move the bucket around objects.
What Is The Difference Between a Boom and Scissor Lift?
Another type of lift is the scissor lift. The difference between the two is that a scissor lift moves strictly up and down while a boom allows for a forward reach, and – depending on the arm type – can provide more flexible movement at a height.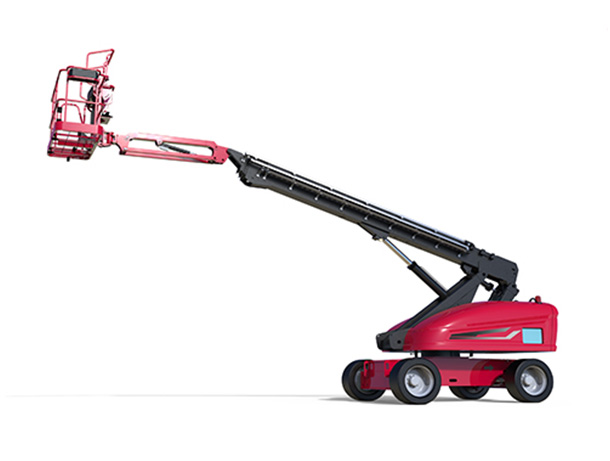 Common Uses of the Boom Lift
Whenever a project calls for work at elevated heights, contractors choose a boom lift. Increased stability, easy mobility and higher capability offer increased safety of workers working at heights and can help make a project both safer and more efficient.
Boom lifts can be a helpful tool when doing projects in the air. These projects include but are not limited to:
Erecting scaffolding
Fruit picking on farms
Painting walls and ceilings
Lighting work
Hanging signs
Choosing The Best Lift For Your Job
Boom lifts are best used when something higher than a forklift is needed. They can be fitted with tires, treads or track and have two-wheel or four-wheel drive. They can also be used outside or inside and fueled by either diesel, gas, electricity or a mix with hybrid power.
Boom lifts also come in a variety of sizes, platform heights and boom capabilities. There are straight and articulating boom lifts in a wide range of platform heights. Many lifts have self-levelling capabilities so that operators can set them up and start using them in a short amount of time.
What Questions Should You Ask Before Renting a Boom Lift?
Asking a variety of questions can help you find the best lift for the job. A few examples of questions to ask and things to consider are:
What type of movement do you need?
How high do you need to go?
How many people and how much material do you need to move?
What are the jobsite conditions?
What kind of power source capability do you have on site?
What are the space restrictions of the jobsite and work area?
The answer to these questions will point at the platform height, boom type, whether it should be tracked or wheeled with two or four-wheel drive. This helps contractors to determine whether a boom or scissor lift is the better option to rent.
What Are the Two Types of Boom Lifts?
A boom refers to the arm-like piece that connects from the platform to the grounded base. It is an extensible crane-like arm that uses hydraulics to extend and contract to achieve the desired height. There are two distinct types of boom that a boom lift can have: A telescopic boom or articulating boom.
Also called a straight or stick boom lift, a telescopic boom lift features a single hinged extendable arm that can stretch out across the distance. A telescopic boom lift is best used for work in open spaces or on rectangular structures.
An Articulating Boom Lift
Also called a knuckle boom lift, an articulating boom lift features a variety of "arms" which can move the platform into tight spaces or around obstacles. An articulating boom lift is best used for complex structures or in tight and crowded spaces.
If you are interested in sending in a Guest Blogger Submission,welcome to write for us!